It's so easy to lose motivation!
I live in Oklahoma where tornados and severe weather are really considered the norm, especially in the Spring. But yesterday they were predicting an especially dangerous outbreak of severe weather. So much so that all of the schools in the area canceled class! This meant that my 4 kiddos (all of whom are normally in school on Mondays) were at home with me!

Yay! Sort of.

You see, Mondays are work days for me. I get a lot done writing content, planning trainings and Bible studies, as well as catching up on reading e-mails and other work-related tasks. On top of that, I had some housework to take care of.

But I was glad to have the family together for an extra day at home. So, knowing that classes were canceled, I had big plans for waking up early, getting started on all of my things before the kids were up and at 'em.

Well...it didn't work out like I had imagined. I didn't go to bed until late (a BIG no-no for me!) and I didn't sleep very well, so I slept later than I wanted and just really didn't want to get going when I finally got out of bed.

Do you ever have mornings like that?

By the time 9 am had rolled around, I was about 3.5 hours behind schedule and had lost all motivation to get busy. 🙄


But the reality is that most of the time it doesn't matter if I have the motivation or not. Things have to get done anyway.


So what causes us to lose motivation to begin with, and what can we do about it?

Here are 5 reasons we lose motivation and how we can get back to work!

1. Unmet Expectations:
We have our hopes and dreams piled high on top of a foundation of a certain expectation. And when this expectation doesn't get met, the whole thing comes crumbling down.
Solution:
When thinking through your plans, determine in advance what the end result will be, instead of focusing on the circumstances that will allow you to get it done.
For example: You plan on coming home and making dinner. In your mind, you head into the kitchen while the kiddos play quietly at the table while you work. Reality hits and the kids start bickering and spill glue on the table and when you finally get all of that taken care of, you are just done. So you order take out. But if, when thinking about dinner, you had your expectations on the end result instead of the process. You keep that end goal in front of your mind and press on toward that...then, when plans in the process go screwy, you still have your motivation to reach the end.
2. We Don't Really Have a Plan:
We know we want to get the house clean. We get up and think about the need to get the house clean, but since we don't have a definite plan of attack, it seems like it won't be a problem if we check our Facebook real quick. We aren't really sure exactly where to start so we sit and scroll Instagram instead. Or we start cleaning out our kiddos sock drawer. For an hour. HA! Or maybe we get started with gusto, but once the kitchen counters are cleaned off, we look around and see how much we still lack, so we lose all of that momentum.
Solution:
Get a game plan. Before you tackle any major task (or sometimes even minor ones), think through the steps. Write them down and get a plan in your mind. Need help? My 4-Week Supermom Boot Camp is open for 4 more days. This Boot Camp will get your schedule in shape, regardless of your particular life stage. (See below for Bonuses that expire soon!)
3. We Don't Have a Why:
Part of staying motivated for any task is really believing in it. We pick up the random dirty socks in the yard (am I the only one that has to do that?) and we look at the front porch that needs sweeping and we just can't bring ourselves to care! I mean...what good does it do when the leaves will just blow right back up there?
Solution:
What does our "why" matter when it comes to laundry and wiping bottoms and picking up the living room AGAIN? Think about this: How motivated are you when you have laundry on your couch but you know someone is coming over to visit and is going to want to sit on that couch? I bet you could get that laundry put away super fast! Or if I have invited a friend to have coffee with me on my porch, I can get it picked up and cleaned up in a hurry so that they can enjoy the space. You see, sometimes our why is a little vaguer - like why do we want our kids to have clean clothes...but if you can attach a strong "why" to the task, getting it done becomes a joy instead of drudgery. Like maybe you want your kids to remember your home as a peaceful haven instead of a chaotic mess.

4. We are Simply Worn Out:
We want to go for that walk. We want to make our bed. We want to take a shower and put on makeup. We want to vacuum the living room. But we were up late, we eat the toddler's leftover goldfish and shove a granola bar in our mouths for lunch, and would give anything for a nap. We don't care for ourselves well, and so we literally feel awful with no energy.
Solution:
Girl...take care of you! Have a baby that keeps you up at night? - lower your expectations and get a nap. Eat some veggies and slow down on the sugar. Take some supplements (let me know if you aren't sure what to take...I LOVE my supplements.) Make rest and a little bit of exercise a serious priority! (Get a really strong WHY!) You can't give what you don't have. You cannot serve your family out of the leftovers. Get filled-up and charged-up so that you can give to your family out of the overflow.

5. We are Overwhelmed:
This is absolutely a real motivation killer. I mean, why even start when we know we will never get finished. Although all of us would recognize the crazy of that statement if we heard it, it gets stuck in our heads when we get overwhelmed. It's a sort of paralysis.
Solution: Overcome the Overwhelm: 4-Week Supermom Bootcamp.

It is a 4-Week personalized coaching program to get out of the overwhelm paralysis and into an organized, planned, and effective schedule. Check it out at the link, and check out the cool bonuses 👇 (did I mention that one of them expires tonight?)


To finish the story that I started earlier, I quickly realized that something had to change. I pulled my planner out, moved some stuff around, got busy, and (mostly) everything was done that needed to get done. You see, there is grace for it all! My laundry is STILL on the couch from yesterday (but it's folded.) Someone is coming over to sit on my couch this afternoon so you can bet I'll get it put away before she gets here! 😂


If you can spot the cause of your lack of motivation, you can take steps to get back your umph to do what you need to get done. That way you can be free to do what you WANT to do! For me: I'm gonna go and sip some tea on the swept-off-porch.


Just a reminder:
The Supermom's Boot Camp is available for purchase this week only for $97.

And if you act quickly you will also get these bonuses for FREE: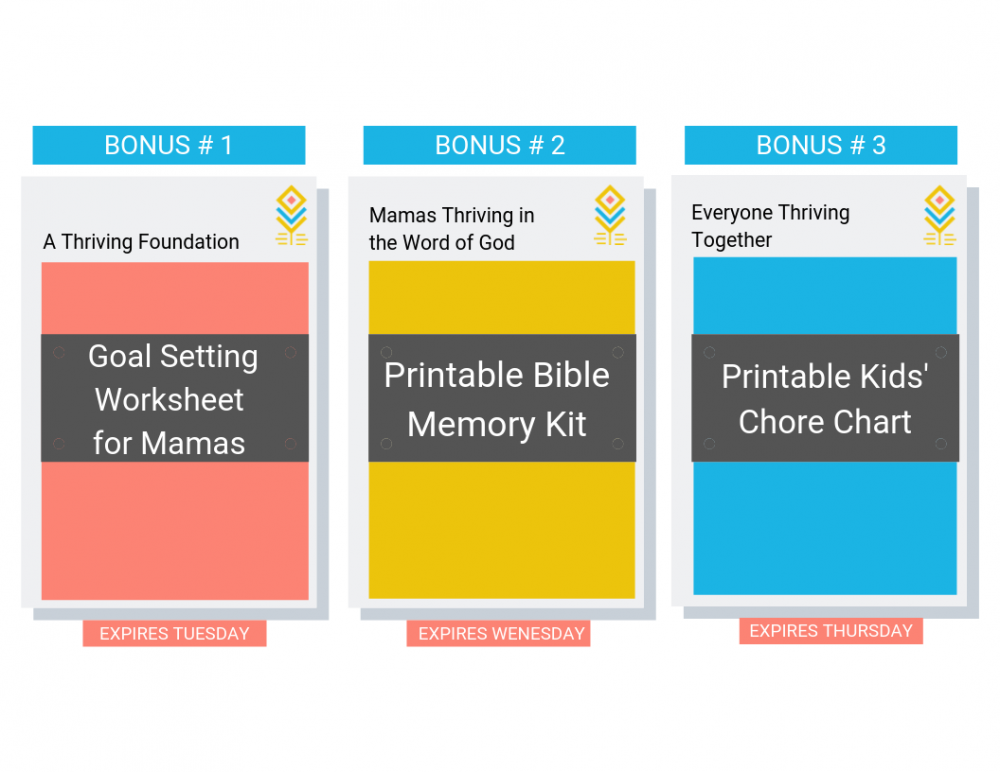 Bonus #1 - My favorite Goal Setting Worksheet for Mamas

Bonus #2 - The Printable Bible Memory Kit for Mamas
Bonus #3 - The Printable Kids' Chore Chart Kit for getting everyone helping.

The cart will close this Friday at midnight CT so don't wait!
Get Overcome the Overwhelm: 4-Week Supermom Boot Camp Today!