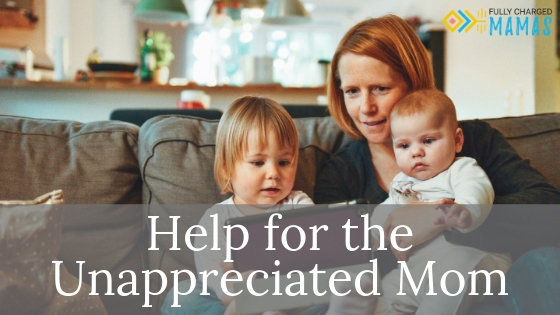 Feeling Unappreciated is Normal
Do you ever feel unappreciated? Like you work and work and maybe it doesn't get noticed, or your work gets undone so quickly that you wonder why you even did it to begin with?
Here is the reality for a lot of mamas:
You cook meals that kids complain about.
You wash clothes that get left on the floor.
You sweep floors that muddy shoes walk on.
You clean toilets that people (boys) pee all over.😝
You budget and scrimp and save and the kids beg for you to buy them something.
There are a hundred ways that we do and do and do for others, and not only do we often not get recognized for all we do, but sometimes we get just plain criticized for not doing it a certain way.
Just reading that may have made you feel yucky.
Feeling Unappreciated is Dangerous
This is what happens when we feel under or un-appreciated.
1. We get discouraged.
2. We can lose motivation.
3. We can even start to resent those that we serve and love.
Think for a moment and see if you have any of these feelings. If so, then you really need to hear what's coming.
Keep reading, and at the end I'm going to give you some specific action steps, as well as a resource that can help.
What doesn't work.
The world's solution is that we need to either seek some way to experience approval for our work (by patting ourselves on the back or by talking with a friend who will give us that feedback, or even fighting for your own rights).
Or...it tells us to find fulfillment in some other things..like work, or a hobby.
But if scripture is our complete sort of manual for life, then we can go there to find solutions for these feelings.
What do we really need?
Let's look at what our hearts really desire, and why feeling unappreciated is so discouraging.
Most mamas want basically the same general thing(s):
We want to feel fulfilled.
We want to feel like we are making a difference.
We want to experience the encouragement that comes when that difference is noticed..aka..being appreciated.
Basically, we want to be fulfilled in knowing that we are doing our job well, and that this job matters to someone.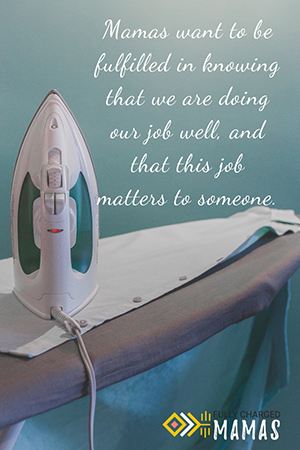 Let's go back and look at these desires in light of scripture.
The Bible says…
Philippians 4:19:

"And my God will supply every need of yours according to his riches in glory in Christ Jesus."
If you need encouragement, He will supply it!
Colossians 3:23-24:
"Whatever you do, work at it with all your heart, as working for the Lord, not for human masters, since you know that you will receive an inheritance from the Lord as a reward. It is the Lord Christ you are serving."
We have to choose to focus our thoughts on serving Him.
Matthew 15:5-8:
"Remain in me, as I also remain in you. No branch can bear fruit by itself; it must remain in the vine. Neither can you bear fruit unless you remain in me. I am the vine; you are the branches. If you remain in me and I in you, you will bear much fruit; apart from me you can do nothing"
We can do nothing of value if we aren't doing it connected to Him.
All of Matthew Chapter 6
Christ is telling everyone to give, to pray, to fast - all in secret. Every one of those are a form of sacrifice, and all in secret.
Why? Because it says that if we do those things in front of others and get that pat on the back, then that pat is the extent of our reward.
But if we do them in secret, the Father in heaven sees, and He will reward.
That reward happens when we have this eternal perspective. SO HARD TO DO!
Something is broken.
This desire in us to be appreciated by human beings: our kids, our coworkers, our bosses, our spouses...this all happens because of a distortion of something that the Lord put in us.
You know the idea that if a kid doesn't get attention from their parents, that they will act out in public to get attention from somewhere?
Think of us as that kid.
If we are not experiencing the approval and pleasure of our Heavenly Father, then we are insecure...and we will seek that out in inappropriate places.
The need to be accepted and appreciated is a very real need. But it should get met primarily in our walk with Jesus.
It is also true that He created us to live in community, and part of that community is encouraging one another. That is a very important part of living in the Body of Christ.
Hebrews 3:13 says
"But encourage one another daily, as long as it is called 'Today,' so that none of you may be hardened by sin's deceitfulness."
What do we do when we feel this way?
Back to those needs -
To feel fulfilled.
To be appreciated.
To know that we are making a difference.
Scripture says we are to work as though working for the Lord
Scripture says that HE sees and rewards.
The Bible says that if we want anything that we do to really make a difference, then we have to be connected to the Vine, which is Christ.
You have a choice to make.
Are you going to believe the Word and walk forward, serving and loving for Him alone to notice?
If you are feeling super discouraged and unappreciated and want to give up. If you have resentment growing in your heart, if you have lost all motivation to keep serving, I'm going to give you a couple of action items and a resource today.
Do these things now:
Action item 1: Get connected to the Vine. This means daily time praying, reading your Bible, getting around other believers who can encourage you.
Action item 2: Encourage someone else in your life, specifically those around you who you feel don't appreciate you. The Lord is good and softens our hearts through encouragement...that goes both ways.
Action item 3: Communicate with those people in your life who don't appreciate all that you do. We aren't going to make demands, but sometimes we just need to hear how we can help someone we love. Maybe that husband just needs to know that you are feeling that way.
Action item 4: Head over to fullychargedmamas.com and download my Free Guide to Unravelling the Lies that Mamas Believe. Much of what keeps us discouraged are the lies that we have bought into as mamas. This free guide breaks down a few of them and has some worksheet type exercises to walk through to unravel them.
Be encouraged. The Lord sees you! He appreciates you.