What to do when our thoughts go where we don't want them to.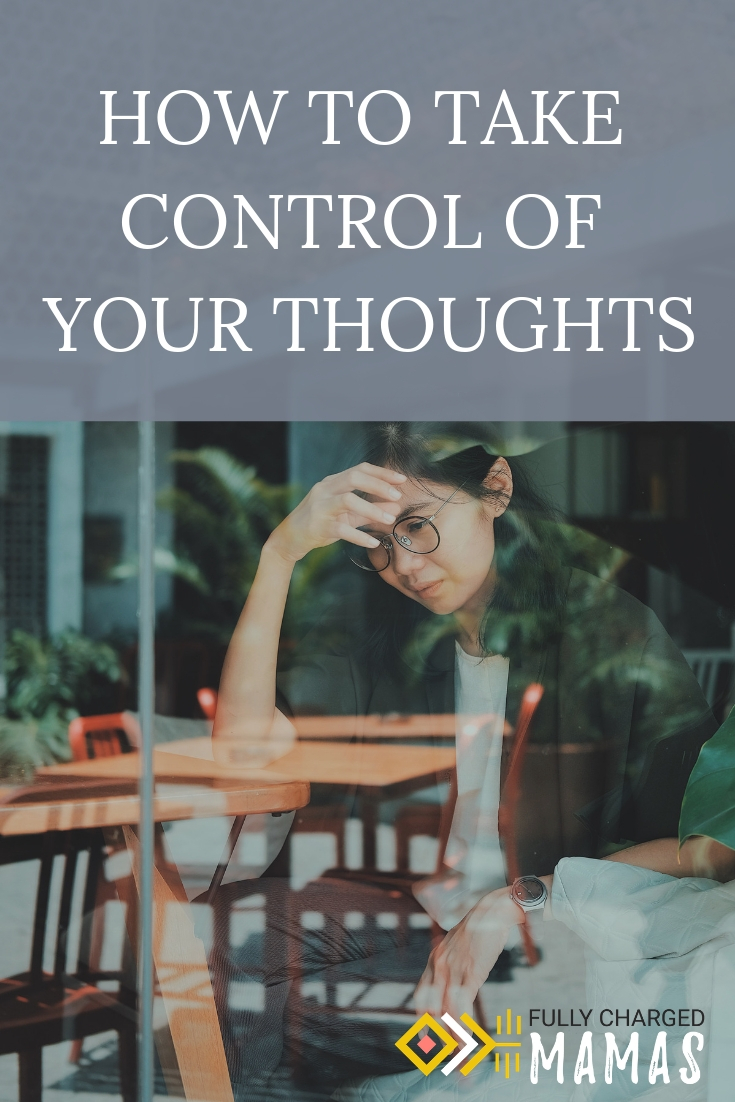 Try this experiment:
After you read the next sentence, pause for a moment before reading on.
Do not think of a pink elephant.
What did you immediately think of? If you are like 99% of people, you immediately think of a pink elephant. Unless, of course, you have mastered the art of choosing your thoughts.
This is actually super easy…in theory. In just a minute here, I can tell you exactly what you need to do to avoid thinking of the pink elephant.
Why does it matter what we think on?
Do you ever find yourself irritated at someone? Or angry at something your husband said, or a bad experience at a store? You play the conversation over and over again in your head, and it leaves you feeling even more frustrated or irritated, and maybe even discouraged.
Maybe you are a worrier. You sit and brood over what may be coming your way, your stomach in knots about what you have to face, or the bill you can't pay, or how your child may suffer. It may keep you up at night, or give you unexpected anxiety during the day.
It could be you are replaying your failures over in your head. You look at what you should've done differently, what choices you could've made, and the guilt and shame builds. You grieve the loss of what you perceive might've been your reality if only you had done something differently, said something another way, or if you were just different than you are.
If you can relate to any of these scenarios, then you can see how hard it can be to actually control our thought processes, as well as how discouraged and hopeless those thoughts can make us feel.
How can we avoid the pink elephant?
Remember that pink elephant?
The next time you read those words, I want you to think instead of a blue giraffe.
You are going to choose to picture a blue giraffe, or even the word giraffe in blue letters. If you first think of the other animal, catch yourself and force the image of a blue giraffe.
Let's do this experiment again with this new strategy:
Don't think of pink elephant! (you should be picturing a blue giraffe right now!)
It worked, didn't it? You could avoid thinking of the elephant because you were given something else to think on. You had an option, an alternative.
This is the way that the human brain works. You might have heard that you should't tell your kids what not to do, but tell them instead what they should do.
For example - don't spill your milk! (the last thing they are hearing is "spill your milk")
Rather, say "Hold your milk carefully!" You want the last thing they hear to be the behavior you want them to do.
Another one is "stop arguing" vs. "say kind words, please." I could go on and on (and will, in fact, in another blog!) But for now, just know that we are not made to just be told what not to think about, or what not to do.
We need to think on what we should do, instead of what we shouldn't.
Let's briefly look at a few Biblical examples of this same idea:
Ephesians 4:24-29
"Therefore each of you must put off falsehood and speak truthfully to your neighbor, for we are all members of one body. "In your anger do not sin": Do not let the sun go down while you are still angry, and do not give the devil a foothold. Anyone who has been stealing must steal no longer, but must work, doing something useful with their own hands, that they may have something to share with those in need. Do not let any unwholesome talk come out of your mouths, but only what is helpful for building others up according to their needs, that it may benefit those who listen."
Colossians 3:5-9, 12-14
"Put to death, therefore, whatever belongs to your earthly nature: sexual immorality, impurity, lust, evil desires and greed, which is idolatry. Because of these, the wrath of God is coming. You used to walk in these ways, in the life you once lived. But now you must also rid yourselves of all such things as these: anger, rage, malice, slander, and filthy language from your lips. Do not lie to each other, since you have taken off your old self with its practices … Therefore, as God's chosen people, holy and dearly loved, clothe yourselves with compassion, kindness, humility, gentleness and patience. Bear with each other and forgive one another if any of you has a grievance against someone. Forgive as the Lord forgave you. And over all these virtues put on love, which binds them all together in perfect unity."
Paul frequently first tells us what NOT to do, but almost always follows with the behavior that we SHOULD be doing!
So let's look at this in the context of our thoughts.
What should replace the pink elephant?
2 Corinthians 10: 5
"We demolish arguments and every pretension that sets itself up against the knowledge of God, and we take captive every thought to make it obedient to Christ."
Philippians 4:8
"Finally brothers, whatever is true, whatever is honorable whatever is just, whatever is pure, whatever is lovely, whatever is commendable - if there is any moral excellence and if there is any praise - dwell on these things."
How do we know if what we think is ok or not?
This can be difficult. If we aren't super familiar with the Word of God then we may not know what the standard of correct thinking is. Also, if you haven't been walking with the Lord very long, then you may not be practiced at hearing the voice of the Spirit guiding your thoughts.
The first step to knowing which thoughts to take captive is to get reading the Word of God as much and as often as possible! The Word is living and active and can penetrate our thoughts. It is primarily through our interaction with the Word, and through prayer, that we are sanctified (or made more like Jesus).
That being said, I have found a few things that consistently tip me off to incorrect thinking. When I see these thoughts start to creep in, I can spot them and start the process of replacing them.
Things to look for:
Fear - The Spirit of God never moves in us through fear.
2 Timothy 1:7
"The Lord doesn't give us the spirit of fear! But of power and of love and of a sound mind."
So when our thoughts are based in fear, we know it is time to get busy, taking them captive, and finally replacing them.
Worry, or anxiety - This can be totally related to fear, is not from the Lord, and needs to be replaced. Remember, if I tell you not to worry, that isn't enough. We have to replace those thoughts with truth
Philippians 4:6
"Do not be anxious about anything, but in everything, with prayer and petition, with thanksgiving, make your request be known to God, and the peace of God which passes all understanding, will guard your hearts and minds in Christ Jesus"
Critical thoughts - We are not supposed to take time and energy being critical and judgmental of others. It isn't helpful, it isn't wise, and it isn't biblical.
Mathew 7:1-5
"Do not judge, or you too will be judged. For in the same way you judge others, you will be judged, and with the measure you use, it will be measured to you. Why do you look at the speck of sawdust in your brother's eye and pay no attention to the plank in your own eye? How can you say to your brother, 'Let me take the speck out of your eye,' when all the time there is a plank in your own eye? You hypocrite, first take the plank out of your own eye, and then you will see clearly to remove the speck from your brother's eye."
This is the idea of "he who as sinned should cast the first stone." Since we are not perfect, and are in total need of grace, we can't sit in judgment over others, which is what critical thoughts are!
This does not mean that we don't evaluate others' behavior as right or wrong…what it means is that we don't spend mental and emotional energy judging and criticizing their hearts and their motives.
So if you are able to spot fearful thoughts, worry or anxiety, or critical thoughts (even criticizing yourself!) then you have taken the first step to change them. Then its simply a matter of thinking of that blue giraffe!
Back up to Philippians 4:8! We have to choose the correct thing and then think on it.
Not so fast.
Let me be clear.
This is not easy!
We have an enemy constantly whispering lies in our ears. We must be in the word in order to recognize those lies and combat them with truth.

We are also sometimes our own worst enemy. It can feel good to dwell on the yuck. We get a weird sense that we are in control when we wring our hands in worry. We want to stew over that injury or wound and feel justified in our anger. We like the feeling that we are somehow better than someone else when we criticize them.
It is super gross, but our flesh loves it.
So we choose to reject what the flesh loves and then choose to submit our hearts to the Lord! And He does something amazing…he changes our desires and our defaults and the skill of taking thoughts captive becomes much more second nature.
So be encouraged! And DON'T think of a pink elephant! Now you know how not to!